<To jump directly to the online petition, click here>
On 14 June 2016, the City Council adopted the FY 2016-2018 Economic Development Action Plan. Goal 2 of the plan is to "enhance the customer experience for residents in a way that visitors also enjoy", and one of the strategies to achieve this nirvana-state is to develop a "wayfinding signage master plan".  In bureaucratic-ese, they officially refer to this as the Citywide Wayfinding Sign Program (CWSP).
So far the City has paid $65,000 to Graphic Solutions (GS) of San Diego for Phases 1 and 2 of this strategy.  In their Request for Proposal (RFP) response, GS stated: "We know that a well-crafted wayfinding program will expedite vehicular circulation, direct drivers to parking, reduce trips, encourage bicycle travel and create a pleasant pedestrian experience – for residents and visitors alike.  In addition, we have gathered substantial evidence from our clients that functional wayfinding contributes to a community's economic development and sustainability efforts." (emphasis theirs – Graphic Solutions, RFP response, pg. 7, 13 July 2016).
We find it comical how both the City and the consultancy firm continuously strain themselves to point out the benefits of the CWSP for residents.  It is comical because we believe that any resident of Laguna Beach who has lived here for more than several months would find these signs to be of little use.  Think about it: once you have located City Hall, or the HIP district once, don't you feel you'd be proficient to find either again regardless of your starting point?
More significantly, the visual effect of the signs will be to ruin a good amount of the remaining 'quaintness' of our town in favor of a highly commercial, amusement-park like atmosphere.  If you're still not convinced of the actual intended beneficiaries of the program consider that the Laguna Beach Chamber of Commerce (LBCoC) and Visit Laguna Beach (VLB) have both been involved in the project from the start (they each helped vet the firms responding to the RFP) and VLB has expressed its willingness to contribute funds to the project's implementation. 
The City formed a steering committee consisting of two City Council members, a Planning Commission member, an Arts Commission member, a VLB representative, and a LBCoC representative (NOTICE: no resident representative) to vet the possible wayfinding sign designs.  So let's be clear. The CWSP is intended to benefit commercial interests in the city by helping tourists better locate city attractions, using general fund tax dollars (to which local property tax payers contribute the lion's share) to fund it. Full stop.
As for the steering committee's preferred sign design: I've placed a small red arrow atop the winner in the image below.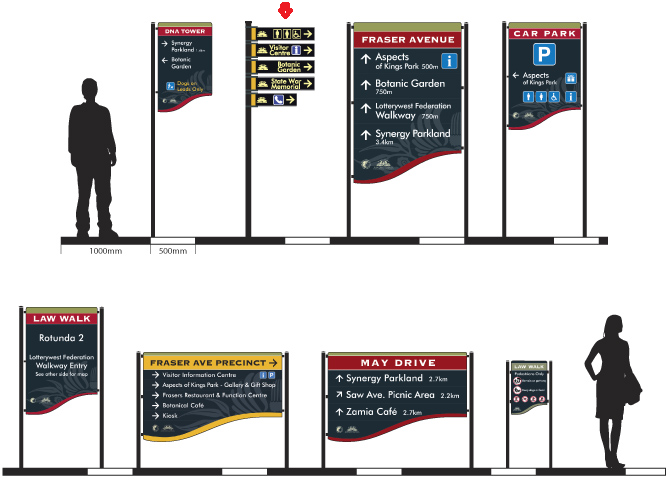 At the February 17, 2017 mid-year budget update City Council meeting, the council decided unanimously to set aside an additional $300,000 in funding to move the CWSP forward. So, together with the $65,000 spent on GS consultant services, local tax payers could potentially contribute an additional $300,000 for a total of $365,000.  We're still awaiting VLB's determination of how much (if anything) they will contribute to the program.

History
10/4/16 – Unanimous vote by council to approve up to $65,000 for phases 1 & 2 (out of 4)of the wayfinding project
11/15/16 – Council members Iseman & Zur Schmiede to represent the council on steering committee
2/17/17 – Unanimous Mid-year budget update; item 11 – additional funding of $300,000 for CWSP.
Next Steps
How is City Hall planning to unleash the CWSP on us?  For the pilot phase, 7 to 8 new wayfinding signs will be installed from Broadway to Legion Street along Coast Highway.  If the drawn mock-ups are scaled correctly, the wayfinding signs will apparently be 9 to 10 feet tall, with multiple horizontal "chevrons" pointing to the various "attractions" nearby.  Clearance under the lowest horizontal chevron should be no less than 7 feet.
Baseline Measurements
As LagunaBeachCHAT has repeatedly pointed out to our elected officials, sound management principles demand collection and analysis of data.  Only by collecting data and analyzing the changes in the data that result from actions taken, can one hope to make sound decisions.  In the case of the CWSP the city has collected no baseline data relating to the behaviors that the program is intended to affect.  Recall, "enhancing the customer experience" was the non-tangible/aspirational goal and hence not measurable in a meaningful way.  If we cut them some slack and try to measure some of the more defined outcomes they hope for: expedite vehicular circulation, direct drivers to parking, reduce trips, encourage bicycle travel and create a pleasant pedestrian experience; then by all means please collect baseline data on all of these metrics. But they have not attempted to collect any baseline data for these metrics and so how can our decision-makers hope to discern any positive or negative results from the pilot phase?
Let Your Opinion Be Heard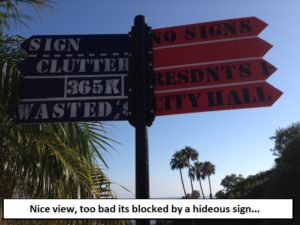 LagunaBeachCHAT is planning a direct action to educate residents about this program and what we believe are its shortcomings.  Please be on the look-out for us near the Farmers' Market on 29July17 and 05Aug17  from 08:00-10:00am where we will be collecting signatures from those who wish their opinion against the program to be counted.  For those unable to make it to the Farmers' Market, we will be posting an online petition which we will collect and present to the Council once this program comes before them again for further consideration.
To go to the online petition click here
Michael Morris is a retired Software/Technology executive, living and owning a property in Laguna Beach since 2013.  He served on the Orange County Grand Jury for a 1-year term during 2015/2016. He currently sits on the Board of Directors of the Grand Jurors Association of Orange County.
* Editor's Note: LagunaBeachCHAT welcomes guest articles on topics of general interest, from respected sources. If a guest article is accepted as relevant and topical, we commit to making no changes (other than spelling and small technical corrections) and will publish the article in its entirety.